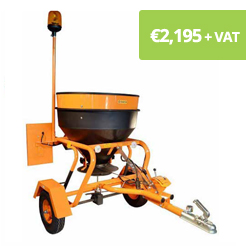 The Fuji spreader is supplied with the additional set of reflection plates and other safety elements, which enable the spreader operation on public roads and it is provided with technical certification. The spreader has a very high performance. With full hopper, it manages to treat up to 10,000 m2. The electrical installation is connected into the vehicle socket for additional trolleys.
Specification
Hopper capacity:
250 kg of salt
Spreading apparatus drive:
steel bevel gearbox with aluminium casing
Spreading system:
rotary spinning plate, special agitator
Working speed:
pulled by car up to 15 km/hour
Max. operating width:
3 – 6 m
Salt volume per m2:
adjustable to 25 – 75 g/m2
Treated area with full hopper:
3,300 – 10,000 m2
The metal sieve and hitch for towing by car or tractor included in price
Empty spreader weight:
95 kg
Recommendation:
municipalities and business premises
Contact office to purchase.
Sku

abc111805

Description

FUJI-SPREADER

Product Options

| # | Option | Price |
| --- | --- | --- |
| 1 | Fuji | €2,699.85 |

Shipping

Shipping Rate:

C