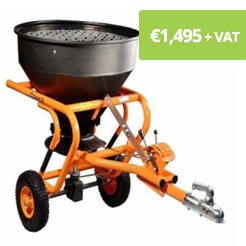 The spreader is equipped with a 150 kg capacity hopper. The weight of an empty spreader is 65 kg. It is intended for medium-size business premises and parking lot treatment. With full hopper, it is capable of 6,000 m2 treatment.
Specification
Hopper capacity:
150 kg of salt
Spreading apparatus drive:
bevel gearbox with aluminium casing
Spreading system:
rotary spinning plate, special agitator
Working speed:
pulled by car up to 10 km/hour
Max. operating width:
3 – 6 m
Salt volume per m2:
adjustable to 25 – 75 g/m2
Treated area with full hopper:
2,000 – 6,000 m2
The metal sieve and hitch for towing by car or tractor included
Empty spreader weight:
65 kg
Recommendation:
municipalities and business premises
Contact office to purchase.
Sku

abc111804

Description

OLYMPUS-SPREADER

Product Options

| # | Option | Price |
| --- | --- | --- |
| 1 | Olympus | €1,838.85 |

Shipping

Shipping Rate:

C